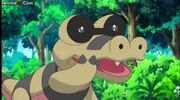 "The Sandile and Kirby Show" is a Youtube webshow which features plush toys interviewing,having "A moment in history" or random skits such as "Invisible Baking".
Trivia :P
Edit
-The shows co-creators Youtube accounts are PachirisuPlusEmolga and InuyashaFan60, InuyashaFan61.
-The co-creators are cousins.
-Most videos take 3-4 times to film properly
-Sandile102 is Sandiles Vlog channel! here be the link: http://www.youtube.com/user/Sandile102 ~Sandile
-Kirby likes Pie ~Kirby
-If you watch a bunch Sandile and Kirby show you might start to laugh abruptly and akward moments...like eating soup.... ~Llama man
-You just read some Trivia ~ Shaymin :3
-ERMAGERD GERS WERT! Season 2 production starts June!
-...More news soon?