Description
Edit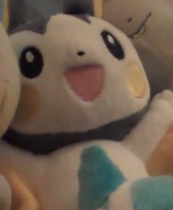 Not much is known about Emolga so check back soon for more info!
Emolga is very innocent and pure, She represents the element and crest of Light and uses it to fight the powers of Darkness.
-Pachirisu: Pachirisu!Emolga:Emolga!Pachirisu: Combine! Emolga: Unite! Pachirisu and Emolga: Unleash the powers of Hope and Light and shine through the darkness!
-Wielding the power of Light, Emolga bolsters her teams heart.