==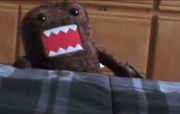 Domo== Description: Domo makes his first appearance in Poke Idol Part2 in the background behind the judges.He then reapears in Poke Idol Part3 the finale once again behind the judges but this time he is attacked by Meta Knight but Meta Knight missed then by king DeDeDe being hit directly but still managing to stay alive finnally Dewott is sent out to get rid of him and suceedes.He will also be in episode 11 and in his own special episode (Episode 12) which is titled "Domo and the journey for the magic brownie"Which will be a "Musical" type of episode including songs like "Walkin' Down to Cherrywood Lane", "Rock 'n' Rollout" and finnally "I am the savior". Domo is very DOMO and represents the element and crest of DOMO to fight the powers of darkness.
-Domo.
-DOMO NO LIKE YOU
-DOMO WILL KEEEEEEEEL YOUUUUUU
-Domo.Peace.
-I AM MAGICAAAAAAAAL
-FIREN DOMO CANNON!!!! DOMOOOOOOOOOOOO!
-Along with Patrat and Lillipup they are so far the only characters anounced to have their own special episodes(12,13,14 and Possibly 15).
-It is unkown what episode 15 will be since 12,13 and 14 are for Patrat,Domo and Lillipup if 15 will be for another character.
-He tends to use his name Domo to start a sentance.
-Wielding the  power of DOMO, Domo bolsters his teams DOMO.