Description
Edit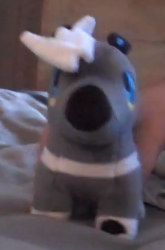 Blitzle appears several times in the show and is best friends with Lillipup and Latias in which they appear in movies together in the series "Kim the Lillipup and the Battle of Eternity" appearing as Lillipups royal steed and is used in "ground battles" in which Lillipup uses Blitzel for enhances speed and agility to fight opponents. Blitzle is rather docile and will do anything to save or help his friends. He is extremely loyal and represents the element and crest of Reliability in which he uses to fight the evil powers of darkness.
-You're NOT, welcome.
-Eat this yah big fat bird!
-LEELARPERP NERRRRRR
-I SHALL SHIELD YOU!
-Don't worry for i have Pixie dust!...What? I stole some from Audino....
-Wielding the power of Reliability, Blitzle bolsters his teamates luck.
-His main introduction is in Lillipups movie.
-He has a big fanbase.
Ad blocker interference detected!
Wikia is a free-to-use site that makes money from advertising. We have a modified experience for viewers using ad blockers

Wikia is not accessible if you've made further modifications. Remove the custom ad blocker rule(s) and the page will load as expected.